Emerson / GE Automation & Controls believes that the future of industrial automation is in the same collaborative technologies and interactive communities that empower our personal lives. Proven connectivity protocols and cloud-based collaborative environments are tools that can give companies of all sizes a major competitive advantage.
PLCs, PACs & I/O Modules
PACSystems™ RXi
GE Automation & Controls has leveraged its rich experience in embedded computing and control technology in the design of the innovative PACSystems RXi controller platform. The RXi Controller incorporates leading-edge CPU technology, the market leading industrial Ethernet network technology,and a unique user interface for maintaining the controller to deliver a control system unique in the industry.
Datasheet – PACSystems RXi Controller 
PACSystems™ RX3i – CPL410

Outcome Optimizing Controller – featuring PACEdge Technology
The PACSystems* RX3i CPL410, part of GE's Industrial Internet Control System, is a hypervised, multicore, outcome optimizing controller. It is now possible to combine real-time deterministic control with physics-based analytics to securely connect to, easily collect, and analyze industrial data directly at the machine. Controls can now be programmed to dynamically influence business outcomes, generate new forms of revenue, and improve profitability. It is designed for superior performance in applications including water & wastewater, metro, industrial steam, oil & gas, discrete manufacturing, modular machine design and other diverse applications that require a compact footprint combined with high performance, flexibility, and reliable, application specific control.
PAC8000 I/O
PAC8000 Process I/O is designed for demanding industrial processes. For applications that are corrosive or explosive, have extremes of temperature or are subject to shock and vibration, PAC8000 I/O is the ideal solution. SIL 2 SafetyNet I/O is also available with the same environmental capability.
VersaMax I/O
The VersaMax I/O is a modular design to address a wide range of discrete and process applications. VersaMax provides redundant power supplies, hot swap, copper and fiber interface with MRP support.
Datasheet – VersaMax Controller 
Series90™ – 70 PLCs
GE Fanuc's Series 90-70 PLC provides a comprehensive solution that is equal to the most demanding applications. With our CPX family of CPUs, the Series 90-70 offers more for your automation dollar–more computing power, more memory for your applications, and more communications and redundancy capabilities.
Series 90* – 30 PLCs
GE Automation & Controls Series 90*-30 PLCs is a family of controllers, I/O systems and specialty modules designed to meet the demand for versatile industrial solutions — helping businesses gain a sustainable advantage. With its single overall control architecture, the Series 90-30 has been the PLC of record in over 200,000 applications.
VersaMax Micro/Nano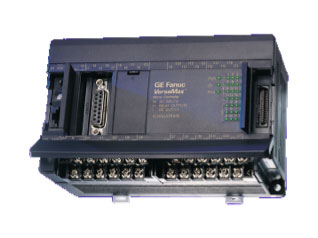 The small-footprint VersaMax Micro PLC offers the flexibility of modular design and a variety of built-in features, including up to 64 I/O points (expandable to 170 I/O points), fast cycle times, a robust instruction set and extensive memory that multiplies your programming options.
Field Agent
Introducing the next layer in GE's Industrial Internet systems solution. GE's Field Agent technology is the critical link required in an IIoT chain for cloud-enabled analytics. Field Agents provide a rugged, pre-configured solution for secure data collection and conveyance from the machine.
QuickPanel+
QuickPanel+ supports 5 IEC 61131-3 programming languages: Ladder Diagram (LD), Sequential Function Chart (SFC), Structured Text (ST), Instruction List (IL), and Function Block Diagram (FBD). The operator can select multi- language support when the system is online. Configuration is easy – a common database reduces development time by eliminating the need to re-enter tag names, and an extensive library of pre-configured animation objects is provided.